Belle's been found in GILBERT, AZ!!!
GOD IS SO GOOD!!!!♥

We can never sufficiently thank all those who prayed and gave their time to help find Belle lost in Gilbert, AZ, I will ask God and believe Him to return the blessing 100 fold to you and supply all your needs in abundance!!!
Besides the 162 who joined Belle's Facebook page or posted helpful prayers and tips the following deserve a special Thank you!
♥
Laura, Alissa, Vicki, Karen, Jeff, Stephanie, Therese, Jennifer, Brian, Rich, Lori, Kathy, Jesse, Dan, Stephen, Melayna, Elaine, Kim, Brenda, Mo, David, Helga, and Mark

Team Belle are the most amazing group of people and each one has become very dear to me. You never gave up hope and you gave me hope! Everyone was creative, using their talents, adding a piece to the puzzle to find "Where In the World is Belle-Belle!"

The veterinarian who examined Belle when she was found. June 27th said,
"It is a "miracle" that you found her, that she has survived, and most importantly, that she is well."

Belle-Belle was found after being missing for 17 days
in Arizona's sizzling, summer temperatures.
June 10, 2011 - June-27-2011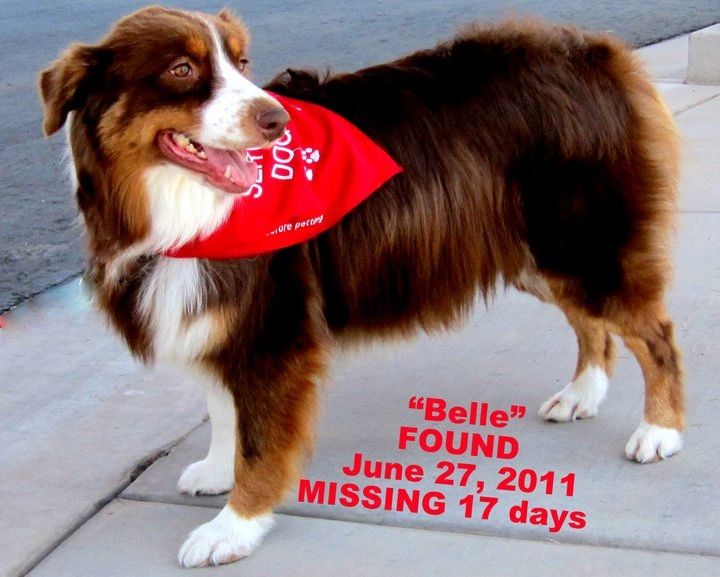 ♥ ♥ ♥ Belle is "Bright Eyes Gone With The Wind" ♥ ♥ ♥ "
...For there is nothing covered that will not be revealed, and hidden that will not be known. Matt. 10:26

Here are some of the efforts made by many people to find Belle lost in Gilbert, AZ!
After hearing that Belle was missing from a trial visit to a pet home, I posted to social media, Facebook, that PRAYER NEEDED, Belle had been lost in Gilbert, AZ. I contacted the local ASCA club and then Gilbert area police. Then, I flew to Arizona, rented a car, picked up Scarlet, and began searching and posting "Lost Belle" fliers in the area.

I was joined by the ASCA area representative and jr. handlers who had been already passing out fliers. I kept going back for COLOR fliers. We used about 300 fliers and 13 rolls of tape! I then flew home for 3 days, and returned again to Arizona after phone calls that Belle had been seen several times in the area.

We were then joined by fellow ASCA Australian shepherd club members and other area dog lovers. Through social media we were joined by a communications specialist who had learned about our search through a posting to a local favorite 24/7 dogie daycare, "Gilbert Dogs". A local landmark, Bashas' Market provided some fliers and an inside Starbucks as a nice place to gather and plan our steps.

We formed teams with assigned positions as we learned about recent sightings of Belle in the area and based our search on their reports. Belle was easily frightened by her experience and was avoiding being caught by everyone who had spotted her as then she would take off running.

Again, I returned home to Seattle and my husband had made plans to be coming back the following long 4th of July holiday weekend himself to look for Belle; and the flight arrangement to Arizona were made for his trip to look for Belle. Well, I then arrived back to Seattle myself at around 10:20pm, got some groceries and put things away, then flipped on the computer for any updates on Belle and there was the email, "Belle's BEEN FOUND!!!

The celebration begun from that point as friends new and old began, THANK YOU, GOD!!!, cheers and wahoo's on the social media, Facebook, from literally, around the world.

17 days of Belle being in Arizona's 113 degree weather, many, many prayers from all over the world were offered, volunteers put up hundreds of fliers and sprang into action by driving and walking in the Arizona, summer heat day and night in the area that Belle went missing, Free Craig's List "Lost Australian shepherd" ads were utilized and kept current, daily visits to area animal control by volunteers and myself, SAR community events were scheduled, phone support was given by the owner of an Arizona search & rescue tracking dogs, an area animal rescue group brought out traps that were observed by groups of volunteers until well after midnight, 3TV television interviews were broadcast all over Phoenix, Morrison Ranch HOA emails went out to area home owners, and hi-tech support was utilized from as far away as Alabama and Louisiana.

Our prayers were answered when Belle was finally found by two local area young people who then went to PetSmart to find out about her microchip and instead made a positive ID from the store bulletin board flier!
Belle's been found!!!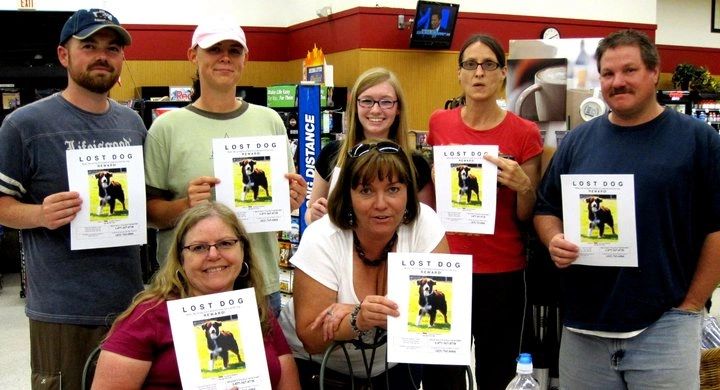 Some of "Team Belle's" Gilbert Area Searchers

Belle and her sister Scarlet had been shipped for a trial period to an approved, pet home 6-10-11
and Belle bolted upon arrival at their
their lovely, Gilbert area home.

At the time Belle was wearing a purple poke-dot collar,
WA rabies tag, she had been spayed,
and was microchipped by Banfield "True Paws"
Unfortunately, Belle was not wearing an ID contact tag on her collar!


♥ LINKS CREATED AND USED DURING OUR SEARCH FOR Belle ♥

Craig's List ~ Lost Dog AD
Updated listing each day
Checked Found Dogs in the area, too.
Animal Control said they routinely use Craig's List
Craig's List

A Facebook Page was assigned by our tech. support in Alabama
~"Belle Lost in Gilbert, AZ ~
Belle lost in Gilbert AZ

Arizona 3TV Video Link of "Belle Missing"
"Family Needs Help Finding Missing Show Dog."
http://www.azfamily.com/good-morning-arizona/Family-needs-help-finding-missing-show-dog-124364409.html#

Arizona 3TV Video Link of "Belle Reunion"
http://www.azfamily.com/video/featured-videos/Retired-show-dog-reunited-with-owner-from-out-of-state-124689259.html#

A HELP FIND Belle!! Public event was arranged by our communication specialist
Public Event

"Google Earth"
Google Earth was used by our tech. support in Louisiana to locate and alert local area business
of Belle's being lost
and also, pinpoint and tack her sightings and our searches.
https://www.facebook.com/#!/photo.php?fbid=10150291077787174&set=at.10150291077712174.381542.703177173.1582793769&type=1&theater

East Valley Tribune Classified
http://classifieds.eastvalleytribune.com/item/278

Daily Devotional Bible Scripture Verses
were posted to Facebook
to remind us...
It was God who was directing our steps!!!
Michelle Shelton ~ Top Producing Arizona Horse Properties ~ Michelle Listed Belle missing on her website ~ Thanks Michelle!
http://askmichelleshelton.com/2011/06/dog-missing-in-gilbert -arizona/

In addition, Elaine Kilgore writes: If your pet becomes lost, please share what state/city you are located in as you post to social media such as Facebook. If you go to Google Earth you can research location of local businesses, vet offices, boarding kennels, schools to contact. The icons in Google earth will give you addresses and phone numbers and will help you cover more territory. Create a document file with pertinent info, photo and contact numbers. You can print at Kinkos or similar office supply. Remember someone sitting in a car cannot read small text on "Lost" signs. Ask everyone you meet to please key in a contact number under "Lost Dog" in case they see your lost dog. It does no good for someone to call 2 days later because they didn't have your number. Elaine has great ideas and has helped with several searches through her many Facebook friends. Elaine spent weeks helping us through her computer while we were looking for our Aussie in Arizona and then Belle was found. Elaine Kilgore was a tremendous help and blessing. Thank you Elaine!